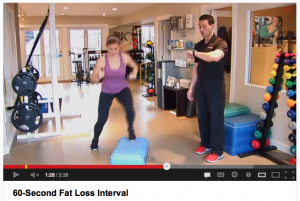 In less time than it takes you to read this newsletter you'd be finished with today's powerful fat burner.
It's that fast.
And better still, it's extremely effective.
Why It's Effective
The reason it's so effective is that it has you working in the "frontal plane," which forces your brain, nervous system, and muscles to have to focus and continually move side to side when you're used to primarily moving forward and back.
This leads to a higher spike in metabolism.
Therefore, it's no surprise it's a great way to burn body fat…
This 60-second fat loss interval does more than just burn body fat, though, it also works on your speed, agility, coordination, and footwork.
That means you'll become more stable and balanced after a only few weeks of trying this interval.
And, did I mention it's actually 2 exercises in one?
Okay, so here's how it works:
1. You're going to place a 4-8" box on the floor and stand to one side of it with one foot up on the box.
2. Next, for 30-seconds begin to "bound" or jump side to side keeping one foot on the box at all times.
3. When 30-seconds (or 30+ reps is up) switch to the next exercise without rest.
4. This 2nd exercise begins standing with both feet on the box.
5. Next, jump off the box with both feet onto the floor – absorbing when you land.
6. Immediately jump back up on the box with both feet.
7. Repeat the jumping up and down until the final 30-seconds (or 30 reps) is up.
So, to recap, what you're going to do is bound side to side onto and over the box for 30-seconds as fast as you can (with control), and then immediately switch to "2 feet on, 2 feet off" for 30-seconds.
Reading this explanation is probably the equivalent to trying to teach yourself to play the piano by reading a book, so Sarah and I shot a video for you to follow along with (below).
And, if you're wondering when to do this little gem during your workout, I would add it in at the end of a Fatlossity-style resistance workout.
Or, you could always add it to the end of a strength-based superset where your heart rate doesn't get to high.
…When in doubt, just use the fat burning intervals I give you at the very end of your exercise program to finish your workouts.
60 seconds + 100% intensity = real fat loss results.
Enjoy.

Committed to your success,
Stephen Cabral, CSCS, CPT, NS
Voted "2011 Personal Trainer of the Year"
Author of Fatlossity, Lose5in7 Weight Loss System
Health Consultant for MTV, Men's Health, Women's Day, MAXIM, NutritionData, Dietcom, SELF
https://stephencabral.com
Please Note: I do not endorse any advertisements in my YouTube videos.
>>> Here are the Exact TOP 3
Fat Burning Systems My Clients Use:
http://Lose5in7.com
– my complete 12 week in-home
step-by-step, weight loss system as seen on TV.
***************************************************************************************************
Please feel free to forward this article to anyone it could help!
****************************************************************