Unmatched Highest Potency Organic CBD Oil
Right now, pharmaceutical companies are scrambling to patent various forms of cannabinoids (the active ingredient in CBD). The reason for this is that research is so overwhelming positive that CBD Oil is being used in cases of brain cancer, autism, depression, anxiety, pain relief, and many more hard to treat dis-eases.
*THC is under .30%
*No THC in CBD/Hemp
*Legal in all 50 states
Benefits of CBD Oil
Relieves Pain
Balances Healthy Inflammation
Arthritis
Reduces Anxiety
Antipsychotic Effects (boosts mood)
Menstrual Pain
OCD, ADHD, PTSD
Autism
Alzheimer's
Aids in Digestion
Fights Cancer
Relieves Nausea
May Treat Seizures & Neurological Disorders
Improves Blood Sugar
Improves Cardiovascular Health
No THC = No High
The difference between cannabis/marijuana and CBD oil is that CBD is just the cannabinoids (cannibidiol) and not the THC. CBD does not get you high like THC does. THC causes euphoria by binding to special CB1 and CB2 nerve receptors in the brain. CBD does not bind to these receptors, which means you get all the benefits without the drug-like effects. This means CBD Oil is safe and effective to use any time of the day when you need it.
Personally, I (Dr. Cabral) find it to be incredibly relaxing at night when I come home from work or an hour or so before bed. It helps me calm my nervous system and get into a deep, restorative sleep without any grogginess the next day.
The Equilibrium Difference
The difference with Equilibrium Nutrition CBD Oil is that the hemp oil used this product is pesticide free (other non-organic forms may contain harmful cancer causing pesticide sprays).
Here are 5 additional ways Equilibrium Nutrition has dedicated itself to finding only the highest quality CBD in the world.
1. Full Spectrum Extract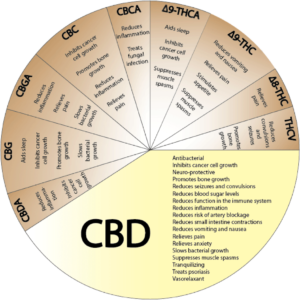 We purchase our product from the only CBD supplier in the world that offers a full spectrum cannabinoid extract. The Hadassah Medical School at the Hebrew University of Jerusalem sought to compare the effectiveness of a completely purified CBD extract versus a full-spectrum extract of cannabis flowers containing large quantities of CBD.
The conclusion of the study was that the whole plant extract, which contained a large percentage of CBD but also contained traces of the other cannabinoids, proved far more effective than CBD-only solutions in alleviating inflammation and pain sensation.
2. Organic & All-Natural
Our organic CBD oil is 100% organic and non-GMO. It is free of additives, preservatives, emulsifiers, and flavors so the product remains in its most pure and natural form. Unless your CBD Oil says it's organic – it's not.
3. 3rd Party Verified
Every bottle of cannabis oil we provide to our customers has been subjected to rigorous laboratory testing to ensure that it contains the optimal amount of CBD and is free of over 200 different pesticides, heavy metals, and mycotoxins. Very few companies go this far to protect their customers and ensure the highest standards possible.
4. Cold Extraction Methods
We utilize CO2 extraction methods so there is no heat to degrade the product or solvents to pollute it. CO2 extraction retains the entire spectrum of cannabinoids as well as terpenes, essential oils, vitamins like B and D, trace minerals like zinc, and omega fatty acids (mainly 3 and 6) which all work together for maximizing healing effect.
5. USA Grown
It was important to us to find an organic cannabis farm in either the United States or Canada that we could ensure consistent, heavy-metal free CBD oil. Our extracts are derived from therapeutic hemp (cannabis sativa) plants (not marijuana) grown on licensed organic farms in Colorado.
Additional Information on CBD Oil Benefits
Scientific research now shows the many health benefits of CBD Cannabidiol. Cannabidiol is a component of marijuana but it does not produce the psychoactive effects that have made marijuana attractive for recreational use. CBD benefits are real because CBD does produce strong medicinal and therapeutic effects for even the most common conditions.

Digestive Aid
A healthy appetite is vital to a healthy body, especially when the body is healing. Some illnesses decrease the appetite to the point of preventing the body from healing itself. CBD stimulates appetite, according to the National Cancer Institute. In the human body, CBDs bind to cannabinoid receptors in the body. Scientists believe these receptors play an important role in regulating feeding behavior. CBDs stimulate appetite when they dock onto these receptors.
CBD also eases nausea and vomiting. This is especially helpful for individuals enduring chemotherapy and other treatments for serious diseases.
Analgesic
CBDs bind to CB1 receptors in the body to relieve pain. CBD also has an anti-inflammatory effect that reduces swelling.
Anxiety Relief
CBD may alleviate severe social anxiety. Generalized Social Anxiety Disorder, or SAD, is one of the most common forms of anxiety disorders that impair quality of life. Some consumers complain of increased social anxiety after marijuana use but this may be due to low levels of CBD proportionate to the higher levels of THC.
In a 2011 study, scientists wanted to study the effects of CBD on people with SAD. The scientists selected 24 people with this condition who had never received treatment for SAD then divided participants into two groups. One group received 600 mg of CBD while the control group received a placebo. The scientists then asked study participants to take part in a simulated public speaking test while researchers measured blood pressure, heart rate and other measurements of physiological and psychological stress.
The CBD group showed significantly reduced anxiety, cognitive impairment and discomfort in their speech performance. In comparison, those in the placebo group presented higher anxiety, cognitive impairment and discomfort.
According to the National Institute of Mental Health, approximately 15 million adults in the United States have social phobia and about 6.8 million have a generalized anxiety disorder. Traditional treatment usually involves counseling and medications. Treatment with CBD may be better than anti-depressants because it acts quickly and does not cause side effects or withdrawal symptoms.
Cancer Spread
The National Cancer Institute details several studies into the anti-tumor effects of CBD. One study in mice and rats suggest CBDs "may have a protective effect against the development of certain types of tumors." CBDs may do this by inducing tumor cell death, inhibiting cancer cell growth, and by controlling and inhibiting the spread of cancer cells.
One study by California Pacific Medical Center suggests CBD "turns off" the gene involved in the spread of breast cancer. These scientists found CBD inhibits ID-1, an action that prevents cancer cells from traveling long distances to distant tissues.
Antipsychotic
CBD relieves psychotic symptoms associated with schizophrenia, according to research by University of Cologne in Germany. Schizophrenia affects about 1.1 percent of the population, or approximately 2.4 million adults in the United States.
CBD continues to surprise medical researchers with the variety of common health benefits it provides. An increasing number of scientists, physicians and consumers are learning about these health benefits and incorporating CBD into a healthy lifestyle plan.
(Source: The "Additional Information on CBD Oil Benefits" is courtesy of  cbdoilreview.org)
Proven Scientific Studies
Although it's simply not possible on this one page to present every research study and benefit of using CBD Oil, here is a list of previously studied conditions CBD Oil (cannabinoids) has helped with (simply Google search the research as desired):
Acne
ADD/ADHD
Addiction
AIDS
ALS
Alzheimer's
Anorexia
Antibiotic resistance
Anxiety
Atherosclerosis
Arthritis
Asthma
Autism
Bipolar
Cancer
Colitis/Crohn's
Depression
Diabetes
Endocrine disorders
Epilepsy/seizure
Fibromyalgia
Glaucoma
Heart disease
Huntington's
Inflammation
Irritable bowel
Kidney disease
Liver disease
Metabolic syndrome
Migraine
Mood disorders
Motion sickness
Multiple sclerosis
Nausea
Neurodegeneration
Neuropathic pain
Obesity
OCD
Osteoporosis
Parkinson's
Prion/MCD
PTSD
Rheumatism
Schizophrenia
Sickle cell anemia
Skin conditions
Sleep disorders
Spinal cord injury
Stress
Stroke/TBI
Simple to Use
Getting the benefits of the natural cannabinoids in CBD Oil is easy. For therapeutic use place 1/2 dropper (24.2mg of active cannabidiol/CBD – not hemp oil) under your tongue and hold for about 2 minutes before swallowing. There is no upper limit to using CBD Oil and my recommendation is to use it 1-2x a day. My favorite time to use it is when I get home from work and want to switch into "relaxation mode" as quickly as possible. I typically feel the effects within 20-minutes. For daytime anti-anxiety or inflammation, you may take another 1/2 dropper upon waking or before breakfast.
Dr. Cabral Message
Listen in to Dr. Cabral speaking on the benefits of CBD Oil & What Drug Companies Don't Want You to Discover!

Cabral Concept Podcast 452: What Drug Companies Don't Want You to Know About CBD Oil
Cabral Concept 466: How to Use CBD Oil to Heal Dozens of Dis-Eases
Cabral Concept 501: How Cannabinoids Calm Anxiety, OCD, Panic Attacks, Social Anxiety, Depression and PTSD
Finally It's Legal & Available in the U.S.
Although hemp and CBD Oil have never had any drug like effects, previous cannabis laws prevented people in America (and most of the world) from being able to purchase this healing plant-based natural medicine. Finally, it is available for all of us to benefit from and I can't recommend it enough to try it out for yourself and see how it may improve your overall health & wellness!
* Shipping to U.S. Residents Only
Certificate of Analysis & Authenticity
Equilibrium Nutrition stands by every product we produce and guarantee it is made from the highest quality ingredients on earth with no contaminants, so that you can feel confident using our brand and sharing it with friends and family!