Description
According to GPL Labs, The Organic Acids Test (OAT) provides an accurate evaluation of intestinal yeast and bacteria. Abnormally high levels of these microorganisms can cause or worsen behavior disorders, hyperactivity, movement disorders, fatigue and immune function. Many people with chronic illnesses and neurological disorders often excrete several abnormal organic acids.
In Dr. Cabral's Words
In my own clinical practice, I have seen the Organic Acids Test back up what I've seen under the microscope and perfectly correlate with an individual's previous symptoms and health history. I wholeheartedly can corroborate what I see from the OAT lab results and what I see in my practice, which is why I recommend this lab to provide detailed data on which specific yeast, bacteria, neurotransmitter, detox, energy, or vitamin issues need to be addressed immediately.
Best Test for Gut Issues
To date, it's truly the best test I've ever used for detecting underlying "leaky gut," intestinal bacterial overgrowth or intestinal permeability type health issues that are causing many of your unwelcome symptoms.
If you have any additional questions on the lab test or any others, please feel free to contact our team. We're always here to help!
Simple At Home Test
All labs at StephenCabral.com were specifically chosen for ease of use. That means I can mail out these labs anywhere in the US and they can be completed by you the same week right at home.
And that translates to better compliancy, faster results, and happier healthier clients.
So, after you receive your Organic Acids Test kit, all you have to do is follow the simple instructions. You simply put the freezer pack in your freezer the night before and collect your first morning urine in a small container. Then, you just mail it back in a prepaid envelope. The whole collection process takes less than 5 minutes and you'll get your results within weeks.
All at-home lab tests take 3-4 weeks to get the results back after you've mailed them in. At that time you will receive a wellness plan, which includes:
Customized Nutritional Supplement Plan
Dietary Guidance
Detoxification Methods
Lifestyle Changes
Sleeping Tips
Stress Reduction Techniques
Goal Setting Formula Sheet
Progress Report Tracking
Private FB Support Group Access
Health Coaching Call
Plus, included in this package you'll receive a coaching call with one of Dr. Cabral's Certified Health Coaches to review your results and wellness recommendations.
It's Time to Take back control of your health & body!
FAQ
We will mail you lab test kit out to you within 48 hours of your purchase (M-F).
Coaching calls are scheduled for approximately 3-4 weeks after you complete and mail in your lab kit.
Your personalized health recommendations do not include the cost of recommended food lists or products.
Health coaching calls are completed by Dr. Cabral's personally certified Holistic Health Coaching Team.
During your health coaching call you will receive an explanation of your labs, as well as a specific plan for you.
After your consultation is over you will be sent a private link from your health coach for additional bonus reports
Any statements or claims about the possible health benefits conferred by any foods or supplements have not been evaluated by the Food & Drug Administration and are not intended to diagnose, treat, cure or prevent any disease.
SAMPLE REPORT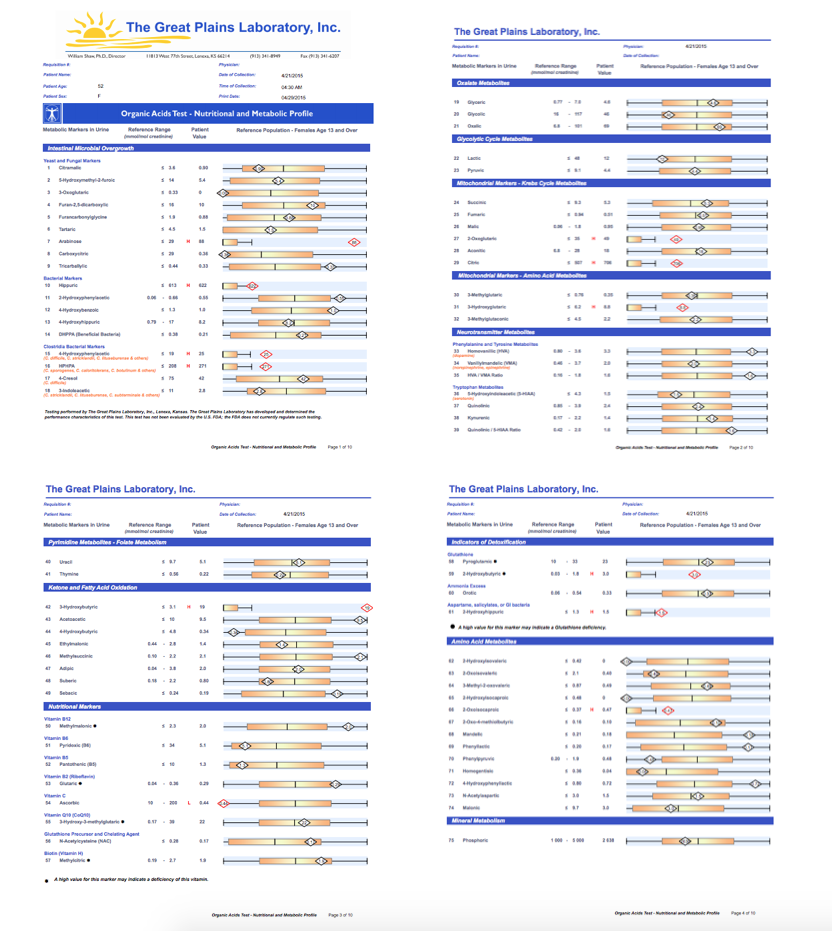 For More Details Watch the Video Below
* This lab cannot be used for New York residents