Description
IgG food sensitivity testing is different than typical food allergy testing that looks for severe, life-threatening or immediate food reactions.
In my practice, I let people know that I don't see a need to test for foods that you already know you get hives, headaches, low energy, moodiness, or acne from…
I'd rather test for the foods that are causing hidden immune reactions that occur 24-72 hours after you eat the food. That's right, when you have an IgG food sensitivity to a food that means you could be suffering from the food's negative effect on your body 3 days after you ate!
And since I've never tested anyone that doesn't have at least 1 food sensitivity I highly recommend that everyone (babies, toddlers, and adults) test their IgG food sensitivities. If you don't and you keep eating foods that are causing you an immune reaction you are unknowingly overtaxing your immune system, which could lead to greater health issues in the future.
As I said, I believe food sensitivity testing is a must for everyone, but it's especially useful in any one worried about any of the issues below.
Do You Suffer From:
Fatigue
Bloating & Gas
Headaches
Joint Pain
Immune dysfunction
Skin rashes
Behavioral issues
Learning or memory difficulties
Nasal congestion
Poor mood
Emotional Imbalance
Remember, even if you eat a healthy diet you can still be reactive to certain foods. Do you have sensitivities to eggs, whey, cheese, almonds, apples, chicken, lentils, or gluten? This specialized food test looks at 94 of the most common foods, plus it tests for Candida Albicans.
Why Test for Candida?
Candida problems are caused when the benign yeast form of Candida albicans mutates to its fungal form. Candida can take over sections of the intestinal wall causing numerous symptoms. As it grows out of balance it produces toxins that create holes in the intestinal lining, leading to leaky gut syndrome. After entering the blood, Candida albicans causes an inflammatory immune system response. A wide range of disorders have been linked to Candida including autism, multiple sclerosis, depression, and chronic fatigue. Use of antibiotics, oral contraceptives, chemotherapy, and anti-inflammatory steroids greatly increase susceptibility to Candida. (Source: GPL Labs)
Best Science Based Food Sensitivity Test
This really is the best food sensitivity test available for ease of use and price. I've actually discontinued my additional food sensitivity labs for this one. As a Naturopathic Doctor and Functional Medicine Practitioner, I can use most any company I choose, and this is my preferred lab.
I want the people I care for to get simple straightforward results at the best price, and this IgG lab test came out on top. It backed by science, only tests the foods you're most likely to eat (so you save money), and it can be done right at home without the need to draw blood or go to a lab. Plus, it's great for testing the whole family (ages 1 and up).
Simple At Home Test
All labs at StephenCabral.com were specifically chosen for ease of use. That means I can mail out these labs anywhere in the US and they can be completed by you the same week right at home.
And that translates to better compliance, faster results, and happier healthier clients.
So, after you get your food test kit, all you have to do is follow the simple instructions, use the automated finger stick to poke your finger once, and then fill up the circles on the card with a few drops of blood. After that, you just place it in the prepaid envelope and mail it to the lab.
All at-home lab tests take 3-4 weeks to get the results back after you've mailed them in. At that time you will receive a wellness plan, which includes:
Customized Nutritional Supplement Plan
Dietary Guidance
Detoxification Methods
Lifestyle Changes
Sleeping Tips
Stress Reduction Techniques
Goal Setting Formula Sheet
Progress Report Tracking
Private FB Support Group Access
Health Coaching Call
Plus, included in this package you'll receive a 30-minute coaching call with one of Dr. Cabral's Certified Health Coaches to review your results and wellness recommendations.
It's Time to Take back control of your health & body!
FAQ
We will mail you lab test kit out to you within 48 hours of your purchase (M-F).
Coaching calls are scheduled for approximately 3-4 weeks after you complete and mail in your lab kit.
Your personalized health recommendations do not include the cost of recommended food lists or products.
Health coaching calls are completed by Dr. Cabral's personally certified Holistic Health Coaching Team.
During your health coaching call you will receive an explanation of your labs, as well as a specific plan for you.
After your consultation is over you will be sent a private link from your health coach for additional bonus reports
Any statements or claims about the possible health benefits conferred by any foods or supplements have not been evaluated by the Food & Drug Administration and are not intended to diagnose, treat, cure or prevent any disease.
SAMPLE REPORT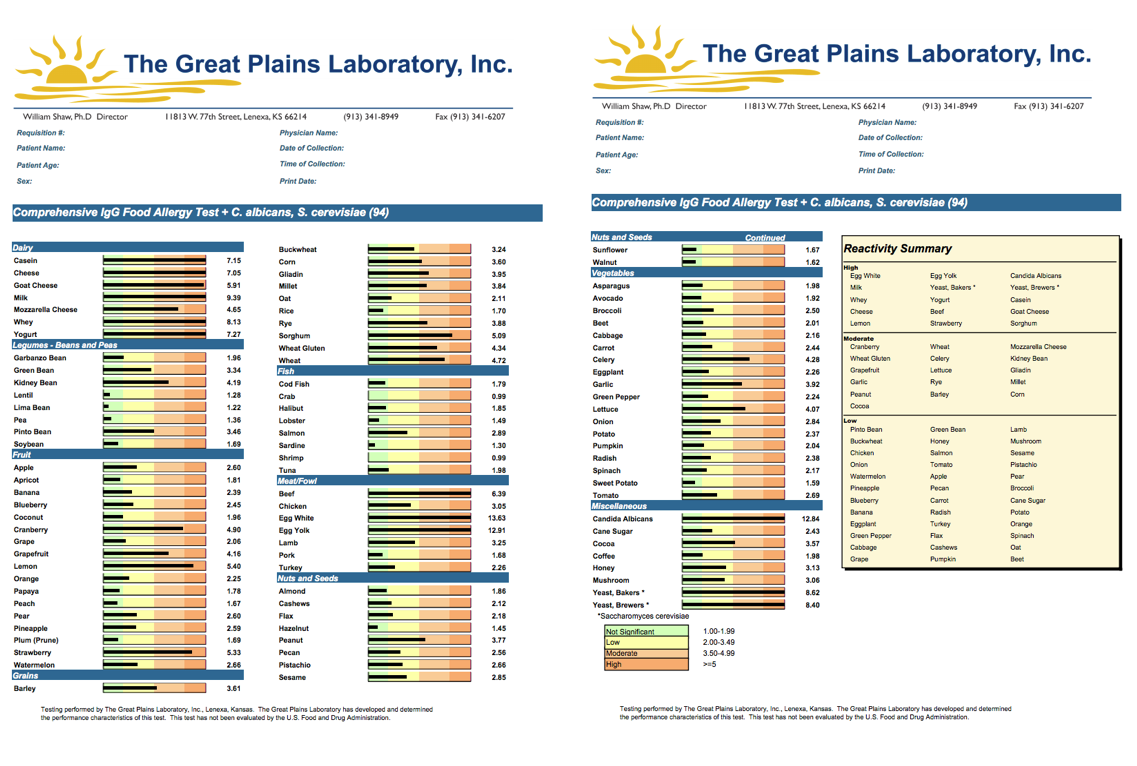 For More Details Watch the Video Below
* This lab cannot be used for New York residents