(Don't worry it's not for sale… believe it or not, I'm going to give it to you FREE)
Read on and find out how & why below…
The Bathing Suit Body Diet is my solution to the fear
of having to strip down to your bikini or bathing suit
and reveal a whole lot more flesh than you most-likely
feel comfortable with.
Maybe you don't love the way your stomach looks…
or maybe it's your hips and thighs.
Either way, the 17-Day Bathing Suit Body Diet
eliminates between 5-23lbs of unwanted body fat,
excess water weight, cellulite, belly fat rolls, and that
"soft and mushy" appearance that unwanted body fat
reveals.
I'm not a huge fan of letting myself looking
out-of-shape look and I bet you're not either.
The Bathing Suit Body Diet
Melts Body Fat Off Your Belly,
Thighs, and Hips in Just 17 Days!

I'm not kidding either.
Most of my clients lose at least 5 lbs (usually 9-23 lbs) in less than 3 weeks. I even had
one client lose an incredible 27 lbs! I know that last one is a little over the top, but
nonetheless he still pulled it off.
Can you imagine losing 5, 10, or even 23 lbs in less than 3 weeks?
Don't you think you'd feel a lot more comfortable exposing yourself in just a bikini or
bathing suit?
I know I'd be a lot more comfortable.
That's exactly why I use this EXACT Bathing Suit Body Diet before all my photo shoots!
There's no way I'm going to leave anything to chance or worry about not looking lean,
defined, and toned before showing off my abs.
And neither should you.
Listen, your friends or spouse are going to get into a bathing suit either way and that
means you're going to have to follow along.
You can't be that "guy" (or girl) that sits around the pool with their t-shirt on.
(everybody knows why that "guy" has his t-shirt on – he's not fooling anyone)
The good news is that the Bathing Suit Body Diet Plan works fast and it's super easy to
use. I literally stripped away all the needless research and data which everyone told me
they didn't care too much about and just provided the "meat."
What this means is that you turn the cover page and you get right into the step-by-step
plan. I don't assume anything so I walk you through the whole set-up (which, by the way,
takes about 2 minutes).
After that each day, for 17 days, I lay out every meal plan that I use for my personal
Bathing Suit Body Diet, as well as the exact one I give me clients.
It would be physically impossible to make this any easier to use.
And with my media credentials, 11 years experience, 11,397+ training sessions, and my
thousands of satisfied clients you know it works.
If it didn't… I wouldn't have a sold out my personal training & weight loss studio in Boston,
or have the most powerful success stories you've ever seen.
The Bathing Suit Body Diet
Is Way to Easy NOT to Use!

There's got to be a catch right?
I mean who in their right mind would give away some of their best material for free?
I've been told I'm a little nuts at times, but even I'm having a difficult time with the thought
of giving away my Bathing Suit Body Diet Plan.
I mean it's one of kind and it took me over 3 years to perfect. That's over 1,000 days of
trial and error!
That's one reason why I know it's perfect and how valuable it is to everyone who has
ever laid eyes on it – their results have even blown me away…
Here's just a couple of the details as to why you haven't seen anything like it before:
Here's the Scoop:
#1. I show you how to lose all the flabby body fat naturally – I don't believe in fat burning
pills that are really just "heart-attack capsules" in the making.
#2. I don't fool around with theory or use you as the guinea pig for my little experiments.
The Bathing Suit Body Diet Plan has been tested and it is approved by me.
#3. I share with you the exact recipe for using nutrition alone to melt body fat, burn up
cellulite, and flatten out chubby folds that shouldn't be there.
#4. This is a science – I lay out the foods that burn the most calories and show you what
foods are making you fat through inflammation & hidden toxins no one tells you about…
#5. No one else can help you lose as much body fat as I can in less than 17 days – You
can take that one to the bank! (I've made this bold statement before and I've been tested
on it… so far no one has disproved me. So until that day comes, I'm the guy you go to
when you want to drop inches off your waist, hips and thighs and look 10 years younger.)
#6. How many people do you know that have routinely helped people lose over 50, 75,
and 100 lbs? It's not magic (although some people think it is), but I do have a few secrets
that I reveal in the Bathing Suit Body Diet (especially the BIG ONE on page 2!)
#7. Most diet plans are complicated and down-right stupid… sorry, but they are. I mean
how many people do you know have the time, money, or energy to prepare a gourmet
meal for 30 minutes and then cook it for another hour and a half. That's 2 hours to just
get your meal ready before you even grab for your fork! Am I alone here? I mean the
last thing I want to do when I get home is cook for over an hour. Luckily, I made the
Bathing Suit Body Diet Plan with only quick and easy meals to prepare and devour. Not
only do most meals take less than 5 minutes to prepare they taste great too!
I could go on and on, but if I haven't convinced you by now you're probably not someone
who is really into changing the way they look and feel about themself.
That's okay too, not everyone is an action taker or likes to try new things. Actually, very
few people are…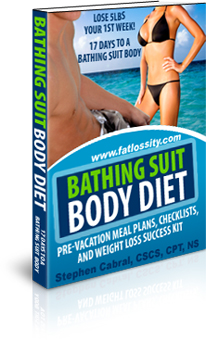 Sorry to disappoint you but there really isn't one.
I can hear just hear it now… "this must be a SCAM!," or "This Stephen Cabral guy is up
to something!"
I am up to something and it's called setting the weight loss community on FIRE!
Never in the history of the world has so much bad advice been given. Every marketer
with a pen is scamming and taking advantage of every helpless weight loss enthusiast
who pray that this new "secret" is the answer to their prayers…
I wish I could stop these late night infomercials, diet pills, and so-called "miracles in a
bottle," but I just don't have that kind of power to preach out against all of them.
Okay, so here's my plan and the
so-called "catch."
#1. I expect and trust that if I send you my personal Bathing Suit Body Diet Plan you will
actually use it.
#2. The second condition is that you will promise to send me your success story so that
I can continue to build the trust of everyone I have the opportunity to come in contact
with. I am looking for the exact stats and hopefully your before and after photo.
#3. My goal is to change the lives of 10,000 people by 2010! Yes, that's a huge
number, but I'm well on my way, and I believe the Bathing Suit Body Diet is going to be
the catalyst. So, you also have to PROMISE that after you lose body fat, drop inches,
look amazing, and feel phenomenal you must tell at least 3 friends. Not 1, but 3.
If you can truthfully tell me you will do those 3 things for me then the Bathing Suit Body
Diet is all your for free.
Oh Wait, There was
Supposed to be a  Catch?

Like I said earlier, there is no way I can create over 10,000 (hopefully 1 Million) Success
Stories without an army of people spreading the word about how this body
transformation expert from Boston is helping people lose weight and melt off body fat
without any gimmicks or dangerous pills.
My work on MTV, NutritionData, Diet.com, Gather, Edge, magazines, etc have definitely
helped to get the word out about my amazing programs, but I need YOU!
I need you to lose at least 5 lbs in 17 days and prove to your friends, family, and
coworkers that you have the secret now.
Then, I don't want you to keep it to yourself, but rather share it with others and tell them
to come over to my site and grab their own copy for free.
Of course, I'll want their success story in exchange, but that's not too much to ask is it?
If you don't think so, then you are exactly the person I am trying to help.
I have the answer, and I want to share it with you…
That's it. No catch. Bottom line.
So, if you want to your copy of the 17 Day Bathing Suit Body Diet Plan then just fill out
the simple form below and I'll mail it out to you within 48 hours. I promise.
At that point you can either keep it on hand to use the next time you are planning a trip
to the beach or are going on a vacation where you want to look and feel your best. It's
also great for anyone who has a special event coming up and wants to look their very
best! I personally use it for vacations and if I'm doing a photo shoot.
People tell me that the confidence they get from banning fat, cellulite, and chubbiness is
unlike anything they've ever experienced before… they feel fantastic and full of life!
… And that's really what it's all about to me.
I hope I have the chance to help you out too, and I sincerely look forward to reading your
success story.
Committed to your success,
Stephen Cabral, CSCS, CPT, NS
National health consultant for MTV, Nutritondata, Diet.com, Gather, Edge
Author of Lose5in7 – Fatlossity Weight Loss System
Founder of Trim, Tone & Tighten
http://Lose5in7.com

http://TrimToneTghten.com

PS.
Don't miss out on this opportunity to discover exactly how to use my
unique
and
powerful
17 Day Bathing Suit Body Diet Plan to get into amazing shape.
PPS. The total value of the Bathing Suit Body Diet Plan is $27.95, but if you order
TODAY I'll mail it to you completely free with no strings attached. All I ask is that you
pay for the $5.77 shipping & processing to get it to you. I'll even pay for the printing
myself if you really promise to use it, put it into action, and then send me your photos
and transformation success story!
If that sounds fair to you just click the link below to tell me where to send it: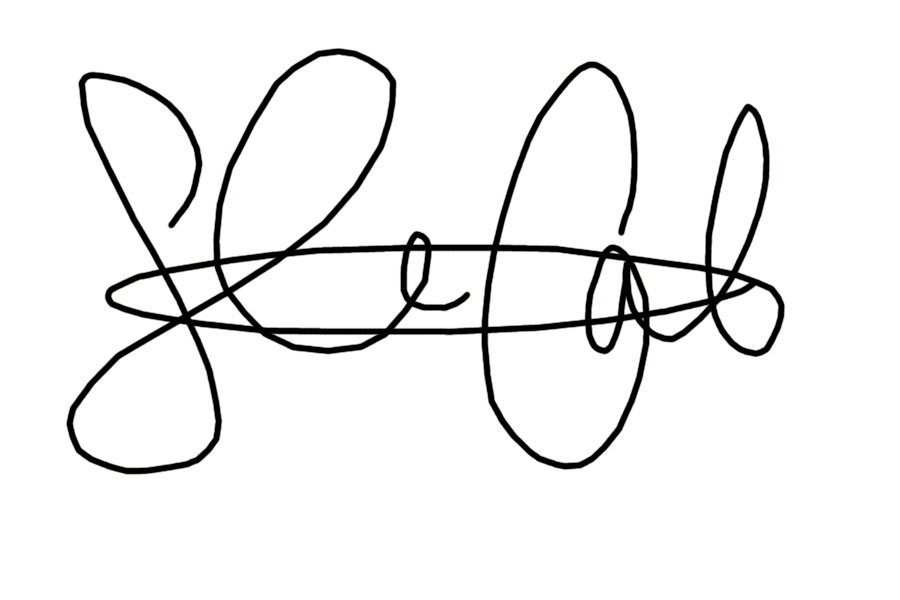 Well, enough talk about what the Bathing
Suit Body Diet it helps you to get rid of… let's
get into how it does it.