Description
It's important to understand there is always a reason you're not able to fall asleep or stay asleep. And, it's typically related to your body's ability (or inability) to regulate certain hormones.
These hormones and co-factors can include cortisol, melatonin, estrogen, progesterone, DHEA, and neurotransmitters like 5-HTP.
Do You Suffer From…
Trouble falling asleep
Unable to stay asleep during the night
Wake up multiple times during the night
Restless sleep
Unable to get into a deep restorative sleep
Tired in the morning
Brain fog
If you suffer from any of the issues above this lab may be a great place to start looking at why you are experiencing the state you are in right now.
Why Choose this Lab
We are not diagnosing disease from these labs, but rather looking for the underlying root causes of why you feel tired, worn out, run down, or lacking energy in general.
This particular lab allows you to look at your current 24-hour circadian rhythm and how you are producing cortisol (energy) throughout the day. Often times with people suffering from irregular sleep patterns their normal circadian rhythm has become disturbed. And as a result they are producing too much cortisol in the evening when their body should be winding down, instead of revving up.
This is a fantastic place to start when looking at how your hormones, nervous system, and stress are effecting your mind and body.
Simple At Home Test
All labs at StephenCabral.com were specifically chosen for ease of use. That means I can mail out these labs anywhere in the US and they can be completed by you the same week right at home.
And that translates to better compliancy, faster results, and happier healthier clients.
So, after you get your Hormone test kit, all you have to do is follow the simple instructions, and then collect 4 tubes of saliva right when you wake up, before lunch, mid-afternoon, and then before bed. After that, you just place it in the prepaid envelope and mail it to the lab.
All at-home lab tests take 3-4 weeks to get the results back after you've mailed them in. At that time you will receive a full PDF of your Personalized Wellness Plan, which includes:
Sample Meal Plans
Meal Plan Templates
Food Shopping Guide
Detoxification Methods
Lifestyle Changes
Sleeping Tips
Stress Reduction Techniques
Customized Nutritional Supplement Plan
Progress Report Tracking
Follow Up Recommendations
Hormone Stress & Sleep Coaching Call
Plus, included in this package you'll receive a coaching call with one of Dr. Cabral's Certified Health Coaches to review your Wellness Plan.
It's Time to Take back control of your health & body!
FAQ
* You will receive all Wellness Plan info and Coaching calls approximately 3-4 weeks after you mail in your lab kit.
* These do not include the cost of recommended food lists or products.
* Health coaching calls are completed by Dr. Cabral's Health Coach Team and certified Nutritionist
* Any statements or claims about the possible health benefits conferred by any foods or supplements have not been evaluated by the Food & Drug Administration and are not intended to diagnose, treat, cure or prevent any disease.
 SAMPLE REPORT: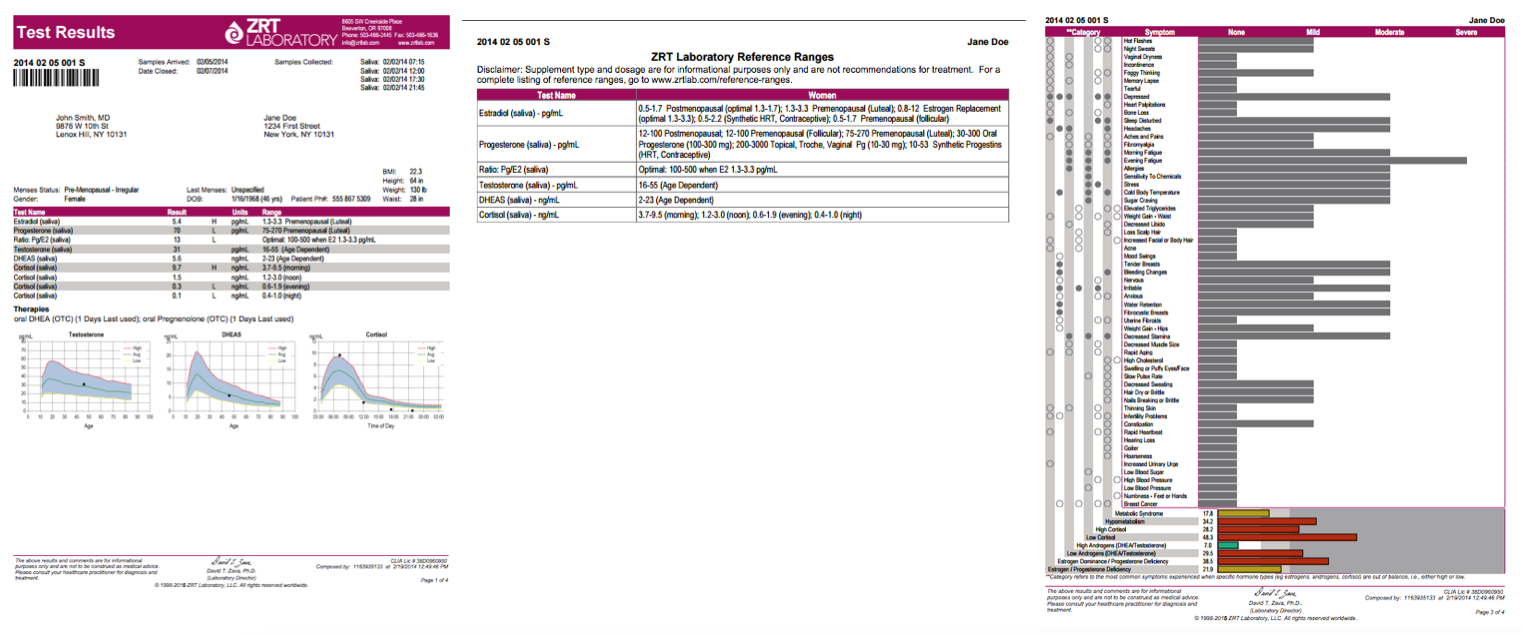 FOR MORE DETAILS WATCH THE VIDEO BELOW