Description
When Should I Run These Tests?
GI Screens are applicable to all patients, especially those with chronic illness and digestive problems.
What does it test for?
Ova & parasites x 3 (Trichrome stain) plus antigens to Giardia lamblia, Cryptosporidium parvum, and Helicobacter pylori. Occult blood. Visual and automated identification of bacteria, including, but not limited to: Citrobacter, Enterobacter, Enterococcus, Escherichia, Klebsiella, Proteus, and Pseudomonas. Visual and automated identification of yeast, including, but not limited to Candida.
BH #401H – GI Screen w/ H. pylori Antigen
Causes for concern are both an overgrowth of microorganisms that are normally present in the intestines and the presence of microorganisms that are not normally present in the intestines. Either condition signals that major physiological pathways in the intestinal environment are outside homeostatic limits.
Parasite infections in particular can be silent but destructive, perpetuating chronic stress on the infected individual 24/7 by raising cortisol levels and causing inflammation. Treatment protocols using natural methods and/or prescription drugs are often necessary to resolve infections.
Helicobacter pylori (H. pylori) is a bacterium which can be found in the stomach mucosa of infected individuals. The infection may produce little or no noticeable symptoms, but can cause gastritis, gastric ulcers, stomach cancer, and other serious pathologies. By neutralizing stomach acid through the destruction of parietal cells in the stomach, H. pylori causes digestive problems, constant acute stress on the hormonal stress response, and can lead to progressively threatening disease conditions unless treated.
Helicobacter pylori Gastrointestinal (GI) tract infections are common and can be either clinical (symptomatic) or sub-clinical (without symptoms). Some patients have active GI symptoms while others present with general complaints: fatigue, body pain, headaches, cognitive problems, light headedness, brain fog and/or general malaise. Currently the two most prevalent infections are Helicobacter pylori, a bacterium that primarily inhabits the stomach, esophagus and upper duodenum, and Cryptosporidium parvum, a parasite that primarily inhabits the small intestine and regularly cycles from intracellular to extracellular.
Other common findings include:
Blastocystis hominis
Dientamoeba fragilis
Candida spp.
Citrobacter spp.
Endolimax spp.
Enterobacter spp.
Escherichia coli
Klebsiella spp.
Proteus spp.
Pseudomonas spp.
Example Results Page: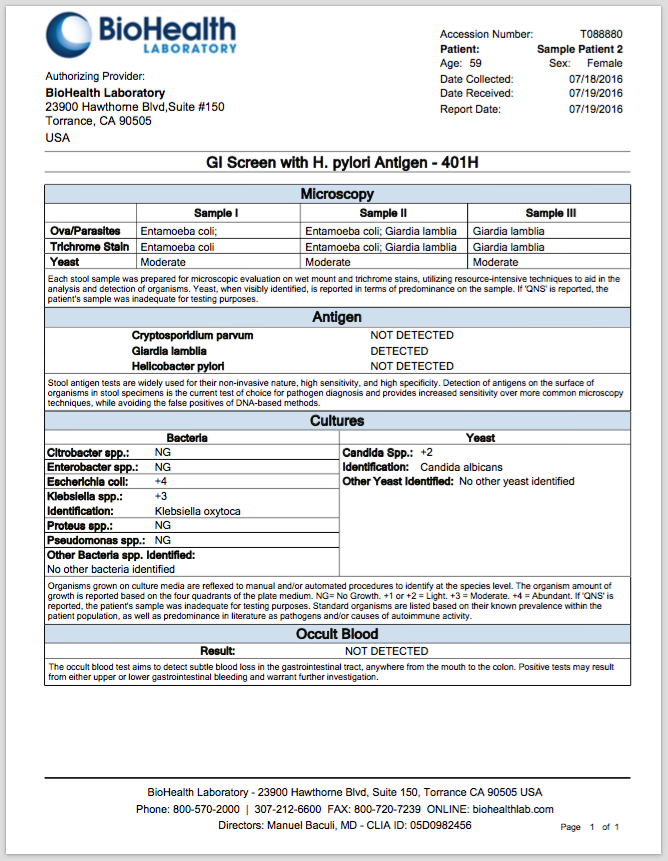 Simple At Home Test
All labs at StephenCabral.com were specifically chosen for ease of use. That means I can mail out these labs anywhere in the US and they can be completed by you the same week right at home.
And that translates to better compliancy, faster results, and happier healthier clients.
So, after you receive your Organic Acids Test kit, all you have to do is follow the simple instructions. You simply put the freezer pack in your freezer the night before and collect your first morning urine in a small container. Then, you just mail it back in a prepaid envelope. The whole collection process takes less than 5 minutes and you'll get your results within weeks.
All at-home lab tests take 3-4 weeks to get the results back after you've mailed them in. At that time you will receive a wellness plan, which includes:
Sample Meal Plans
Meal Planning Guide
Food Shopping Guide
Detoxification Methods
Lifestyle Changes
Sleeping Tips
Stress Reduction Techniques
Customized Nutritional Supplement Plan
Goal Setting Formula Sheet
Progress Report Tracking
Private FB Support Group Access
Health Coaching Call
Plus, included in this package you'll receive a coaching call with one of Dr. Cabral's Certified Health Coaches to review your results and wellness recommendations.
It's Time to Take back control of your health & body!
FAQ
We will mail you lab test kit out to you within 48 hours of your purchase (M-F).
Coaching calls are scheduled for approximately 3-4 weeks after you complete and mail in your lab kit.
Your personalized health recommendations do not include the cost of recommended food lists or products.
Health coaching calls are completed by Dr. Cabral's personally certified Holistic Health Coaching Team.
During your health coaching call you will receive an explanation of your labs, as well as a specific plan for you.
After your consultation is over you will be sent a private link from your health coach for additional bonus reports
Any statements or claims about the possible health benefits conferred by any foods or supplements have not been evaluated by the Food & Drug Administration and are not intended to diagnose, treat, cure or prevent any disease.
For More Details Watch the Video Below