About Stephen Cabral, CSCS, CPT, NS
Stephen Cabral Biography & Media
"Your 1st Choice for the Highest Level of Personal Training"
Media Appearances
Stephen Cabral has appeared in every type of media outlet as a national health & fitness writer with over 1,100 published articles, a video presenter, reality TV trainer, magazine cover model, and has over 5,000,000 views of his partner videos on the web.

Stephen has also been professionally training clients for over 12 years and has completed over 15,657 sessions. Additionally, he has been hired by over 300 health clubs, training studios, and by other fitness professionals to improve their training programs and services.
Here is a small sample of Stephen Cabral's media appearances, published works & awards:
Voted Personal Fitness Professional "2011 Personal Trainer of the Year"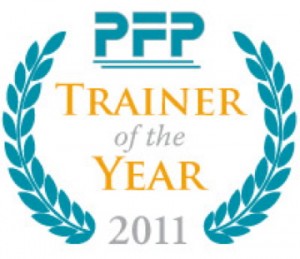 Author of "A Man's Guide to Muscle and Strength" published by Human Kinetics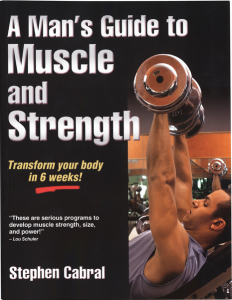 MTV MADE Fitness Trainer & Correspondent


Contributing Fitness Expert and Writer for Men's Health Book: "The Big Book of Exercises"


Published in Men's Health Magazine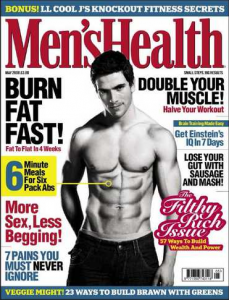 Published in Maxim Magazine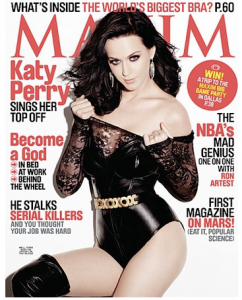 Published in Women's Day Magazine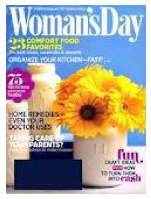 MTV MADE Fitness Trainer & Correspondent


Contributing Fitness Expert and Writer for Men's
Health Book: The Big Book of Exercises


My video was chosen by Glamour Magazine's "TOP 6 Weight Loss Videos"


Over 5,000,000 YouTube Views and FIVE #1 "How-To" videos


FOX 25 News fitness segment fitness expert

Reebok fitness model for their clothing & retail catalog


Reality TV Personal Trainer for Survival of the Richest


Cover Model for Boston Events Guide on Shaping Up

17 Day Fitness Challenge Winning Training for the Improper Bostonian Magazine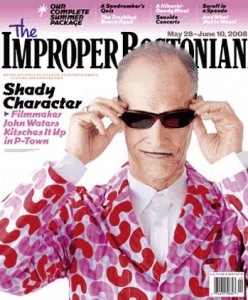 Body Transformation Expert for Diet.com


Expert Fitness Writer for NutritionData


Health & Fitness Correspondent for Gather


Fitness Model for Earth Clothing & Shoe Company


Platinum Weight loss and Health & Fitness Expert Writer for Ezine


Charity Fitness Trainer for Muscular Dystrophy Association


Chosen for Cambridge's" Who's Who Among Top Health & Fitness Professionals"


Health & Fitness Writer & Correspondent for EDGE online
EDGE
Contributor with my own weekly health & fitness column


Professional Training Resume:
Motivation
Stephen Cabral, CPT/CSCS is the founder and director of FitLife by StephenCabral.com and has been an active member of the fitness and personal training community for over 15 years. His passion for the industry has led him all over the country in pursuit of continuing to further his education, certifications, and health & fitness philosophies.
Dedication
Stephen Cabral has also dedicated at least one hour per day for the last 14 years to researching the latest proven data on cutting edge techniques and programming. This depth of specified knowledge has allowed Stephen Cabral to develop and integrate specific training programs for numerous health clubs and organizations from New York to Boston in areas that have only recently started to appear in the fitness industry. Those professional personal training programs are now performed at over a dozen health clubs and studios in Massachusetts, New York, New Hampshire, and Rhode Island.
Education
While working as a Fitness Director and as a consultant for over a dozen health clubs and studios, Stephen Cabral has personally mentored and trained over 300 already highly-qualified personal trainers, so that they may stand out as professionals in the health and fitness field. He maintains this same commitment to his clients when it comes time to take them through each new training session believing that you should always educate your clients on why the are doing a particular exercise and what benefits they are receiving from it.
Training Philosophy
"Motivation. Dedication. Education. By using those three principles over the last 15 years I have seen my clients achieve goals they never thought possible. You owe it to yourself to invest in your health and find a holistic exercise program that is specifically designed to meet your needs. I personally guarantee you will love your workouts and your results!"
Professional Skills
Personal Trainer, NASM, ACE
Strength & Conditioning Specialist, NSCA
Nutritional Consultant, LMA
Golf Conditioning Professional, GMP
Yoga Instructor, Yogafit
Boxing/ Kickboxing Instructor, ETS
Integrated Flexibility Specialist, NASM
Core Training Specialist, NASM
Self Defense, Uechi Ryu, Kempo, Ju Jitsu
CPR & First Aid, American Heart Association
Strengths/ Specialties Areas
Weight Loss Programs
Toning & Definition
Lifestyle Weight Management
Athletic Performance
Reconditioning & Injury Prevention
Post Rehabilitation
Biomechanics of Human Movement
Postural Alignment
Complete Body Transformation Programs
Education
Providence College
Bachelor of Arts, Magna Cum Laude
Awards & Merits
Author of Fatlossity, Lose5in7 Weight Loss System
Author of A Man's Guide to Muscle and Strength
Contributing writer for Men's Health, Maxim, Women's Day
Featured on Fox 25 News Health & Fitness Segment
Sponsor Recipient of the Reebok® Seeding Program
Fitness Product Tester for Reebok®
Fitness Model for Reebok®, Boston Events Guide Cover, and Earth®
Celebrity Personal Trainer for "Survival of the Richest" Reality Show
Strength & Conditioning Coach for MTV MADE
Contributing Expert for the Men's Health Big Book of Exercises
Fitness Writer for Conde Nast NutritioinData.com
Founded YogaShaping™
Health & Fitness Expert for Diet.com, Gather, EDGE, Examiner Boston
Founded & Directed 1st Golf Conditioning Program at the SCLA Boston
Former Representative for over 60 Personal Trainers at SCLA
Master Trainer
Professional Memberships
American Council on Exercise
National Academy of Sports Medicine
National Strength & Conditioning Association
American Safety & Health Institute
Personal Fitness Professional
American Health & Fitness
International Health, Racquet and Sportsclub Association
*If you are interested in hearing more about how Stephen Cabral can help you achieve your personal health & fitness goals go to the Coaching section and you will be on your way to achieving the healthy lifestyle you've always dreamed of!
*Click Here* to Discover a Whole New World of Healthy Living!